Things are going to take shape and version 1.13.0 is heavily on the works. I guess it is a good time to speak a little bit of what will come in the future versions of Slide Effect…
Version 1.13 (estimated release date: May 2015)
This release will mainly introduce a new player for the presentations. I had to rewrite from scratch all the player part of Slide Effect because the old player was too limited for further enhancements (It was based on old, windows only technology). It is a big change, but it will add a lot of new features and possibilities for further releases.
This new player will enhance the output quality (anti-aliasing), will render presentation to movies a lot faster than previously and will be able to handle more effects.
The big enhancement of 1.13 will be on effects and transitions: The effect system will change and you will be able to add several effects on the same time on any object. For example you can say you want an object to fade in and zoom and rotate as a start transition, then blink, rotate and jump as an animation.
To make this possible, I changed the Properties editor as you can show in this early screenshot: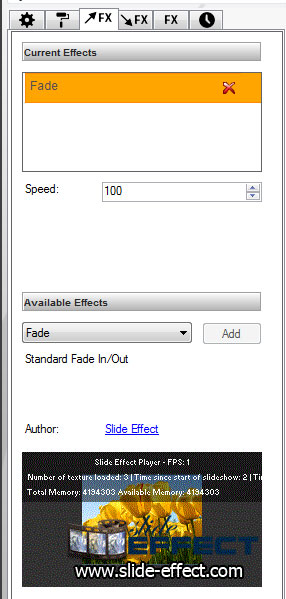 I added tabs to categorize properties. In the effect tab, you can add or remove any available effects. You can also preview the selected effect directly in the property tab (using an animated GIF).
Effects are not anymore bundled in the program and you will be able to download additional effects from our website.
The Professional Edition will feature an effect editor.
Everybody will be able to create or modify its own effect and even submit created effects to us and make it available for all other users.
The transitions will basically use the same editor and will also be editable, but it is not ready yet.
Version 1.14 (estimated release date: September 2015)
This release will probably feature an HTML5 export to be able to publish static presentations on the Internet. It may also be released also for Mac OSX (hopefully, but it may come in 1.15). The background part will be reworked to allow more flexibility and new effects.
It should add the possibility to add hyperlinks and buttons to navigate inside the presentation.
Version 1.15 (estimated release date: December 2015)
– Mac OSX version.
– Audio rework.
– New effects
– New transitions
– New backgrounds
– … more to come…
Well, basically that's what planned for 2015. As usual, it is only an estimation and timeframe or features may change depending of customer feedback and development progress.. But I hope it gives you a clear overview of where Slide Effect is going for 2015.
Feel free to post feedback, suggestions or questions: I am always happy to hear from you!